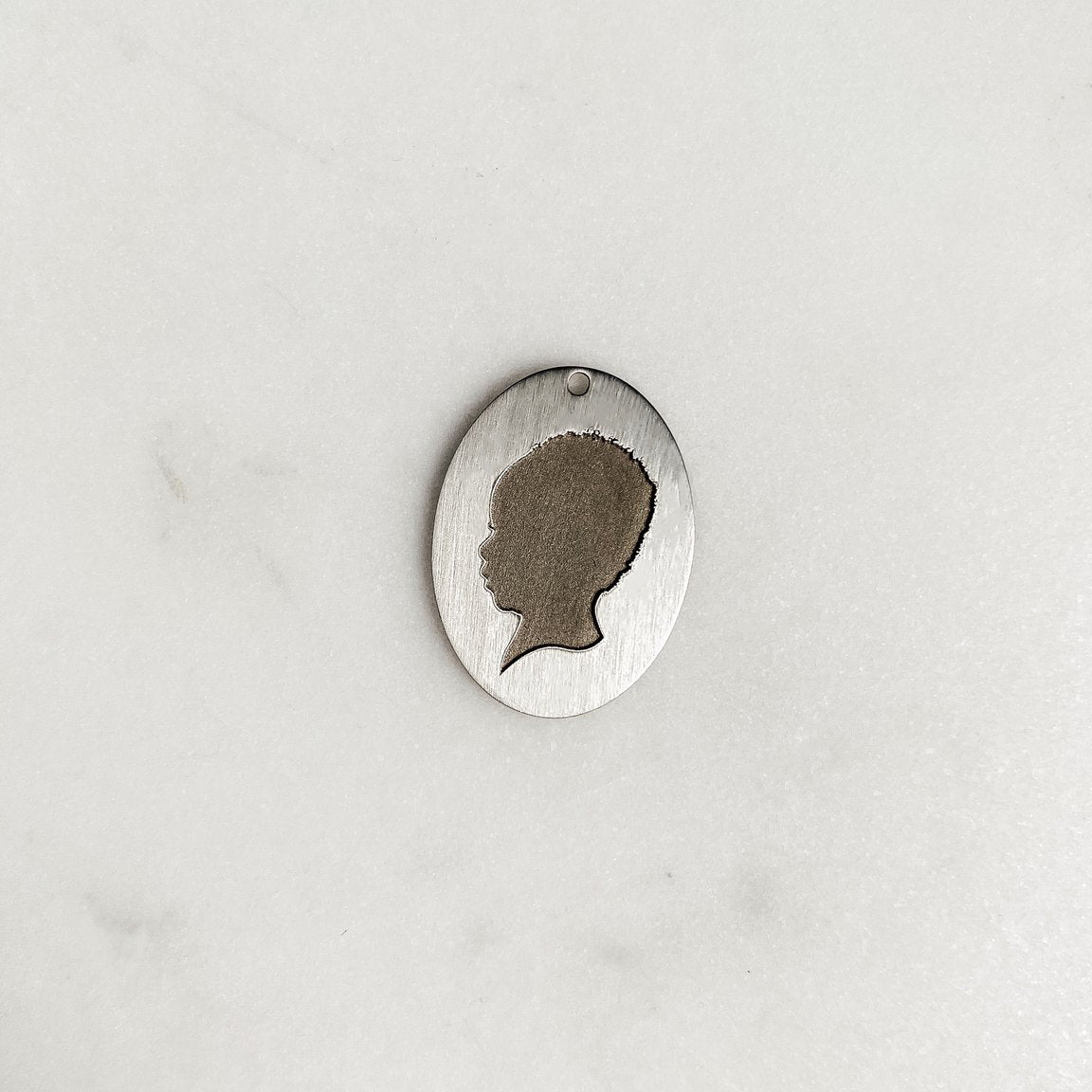 The *Statement* Silhouette Coin Charm
Step back in time or preserve it with this Statement coin necklace. From your photo we will hand draw a silhouette and carefully engrave it onto precious metal for you to wear, forever. It is a timeless keepsake that keeps giving with love and sentiment. The perfect gift for mom to wear the silhouette(s) of her children that she'll never want to take off. Would be an amazing sentimental gift to the bride to be, so she can keep her mother or father who have passed on close to her heart on her special day. A simple yet elegant reminder that her loved one is still with her. 
Whether purchasing for yourself or a loved one this minimalist yet detailed coin pendant necklace is full of sophistication and grace. A staple jewelry piece that you will never want to remove and a constant reminder that bonds will never be broken. 
We pride ourselves on the time and love that we put into creating your detailed illustrations, and believe that you should have a version to hang on your wall, sit on your desk or rest on a shelf or mantle. With every new silhouette we create for your coins, you will receive them as complimentary 5x7 prints.
 Charm Details
· 3/4 inch disc charm (round or oval) (the sample photo is White Gold) with coordination jump ring - custom cut and professionally engraved
· Chain not included
This listing is for a loose charm that can be added to our Silhouette Coin Necklace. If you are purchasing the charm to add to your own personal necklace chain then you will have to take the charm to a local jeweler and have them attach it.  It most likely will not slide on to your chain.
Please Note: The depth of the engraving detail will vary based on each silhouette. Your finished piece may look slightly different than the samples shown here.  Overtop the engraving will darken ever so slightly and that is normal wear. The SS will darken the most.  Shown in this sample is the 14k White gold which naturally is darker.
-----

Click here to read how to submit your photos & photo taking tips
For specific turnaround times head to this page.
Visit this page for FAQ's and this page for important information on taking good care of your jewelry.
$ 150.00
Timeless piece
I have now purchased two silhouette charms, one for each of my boys, and I love them, I wear them everyday, such a gorgeous unique way piece! Thank you!