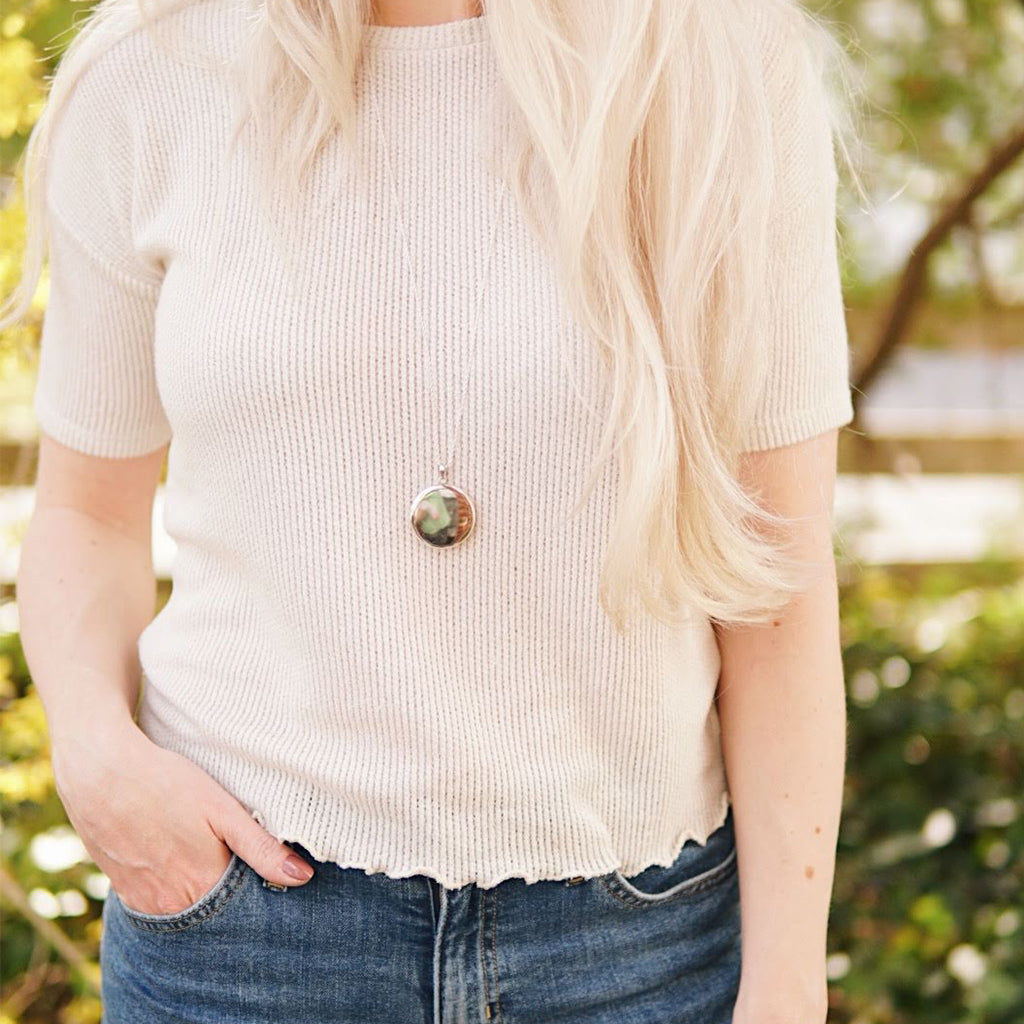 The Statement Silhouette Locket
From your photo we will hand draw with meticulous attention to detail the perfect silhouette that will be securely placed inside of your locket. A beautiful silhouette portrait of your loved one to hold close to your heart and perfect for everyday wear or on special occasions. Each portrait will be well protected with an ECO and non-toxic, glass like resin that will seal and protect your silhouette. This means that your silhouette will not be removable, but will remain a permanent fixture in the locket.
Lockets are a beautiful all occasion gift or for just anytime. Great for new mom gifts, Mother's Day or to remember a loved one that has passed on.
We pride ourselves on the time and love that we put into creating your detailed illustrations, and believe that you should have a version to hang on your wall, sit on your desk or rest on a shelf or mantle. With every new silhouette inside you will receive a complimentary 5x7 fine art print. 
Specifications

1.25 inch locket

14k Gold Filled locket 

Sterling Silver locket

Chain is sold separately and can be added here
If you would like to have a photo on both sides of your locket, please let us know after placing your order.  We will send you an invoice for an additional $25.00 to fill the other side.
We can fit up to FOUR silhouettes per side. 
If you already have a silhouette drawn you would select the # of illustrations that you need made and just let us know you have a previously drawn silhouette to add as well. 

**No proof prior to making the locket will be sent if using already drawn silhouettes unless requested.**
-----
Would you like more copies of your drawings? You can purchase duplicate prints HERE. 
Click here to read how to submit your photos & photo taking tips. Photos are due within 72 hours of ordering.
Head to this page to find the links to the Custom Details Forms. You will fill this out after ordering.
For specific turnaround times head to this page. Visit this page for FAQ's and this page for important information on taking good care of your locket.
$ 214.00
Locket
Excellent customer service and kept me updated on my items.
Beautiful! A keepsake I will cherish forever
Loved the first and ordered again!
Love love love my locket. Had my dogs profile done for a locket and ended up buying a second one for back up.
The anticipation was worth it! It's beautiful and I had the pleasure of surprising my oldest daughter with the locket. She loved it! The pictures were beautiful; I love them and they'll be framed to go above her bed in her new house! Treasures! Thank you so much!
Devine
beautifully made Christmas gift that brought tears to my mom's eyes. Excellent communication as well. Thank you
The perfect piece
This is the perfect piece to add to your jewelry collection. It is lightweight and can dress up any outfit. I love the length of it and the silhouettes inside are exquisite. I highly recommend investing in this piece of jewelry. You will wear it forever!