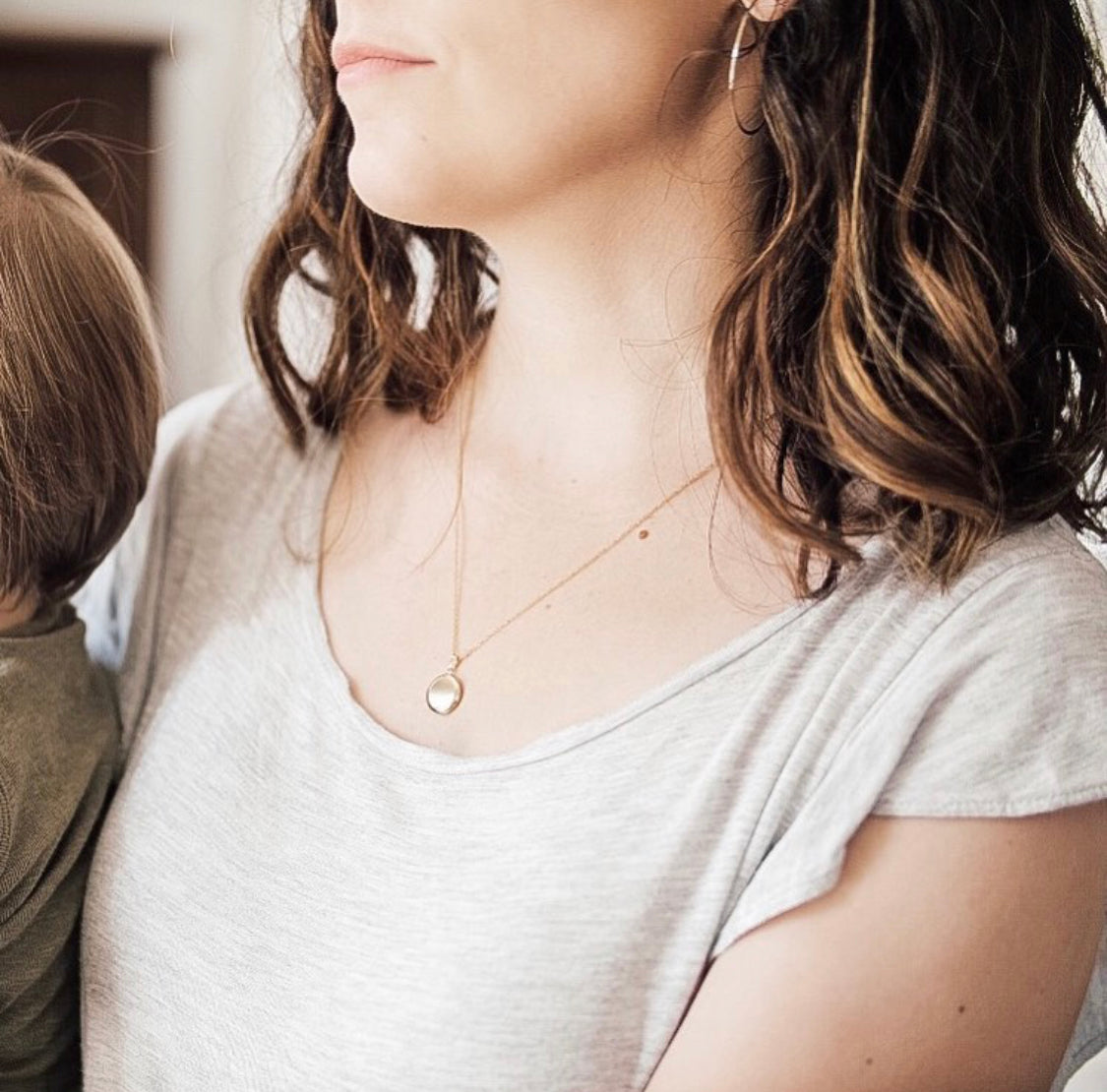 The Petite Silhouette Locket
Your hand drawn silhouettes will be printed and carefully adhered inside of the locket. An ECO & non-toxic, glass-like resin will go over top in order to seal and protect the silhouette.  The silhouette will not be removable.
And because of how much time we put into making your detailed illustrations, we believe you should have a version to hang on your wall!  So every NEW silhouette inside will receive a complimentary 5x7 print.
Necklace Details
· Sterling Silver  - 1/2 inch locket, round jump ring, with a solid Sterling chain - Shiny finish
· 14k Gold Filled - 1/2 inch locket, round jump ring, with a 14k gold-filled chain - Shiny finish
· If you would like to have a photo on both sides of your locket, please let us know after placing your order.  We will send you an invoice for an additional $25.00 to fill the other side.
**PLEASE NOTE: Only Sterling Silver can be given a satin finish. If you'd like that, please let us know. We are no longer offering this for the Gold Fill option.
We can fit up to two silhouettes per side.   Please keep in mind silhouette in the petite locket are going to be very small and you will not see as much defined detail as you would if they were in a larger locket. if you choose to have more than one to a side the silhouettes will be VERY tiny. 
Also, take note of your children's hair– if you have a child with really long hair (longer than 3 inches past the shoulders), in order to have them fit inside of the locket nicely, they will have to have their hair pulled in a high pony tail or bun - or we can shorten it for the locket but keep it longer in the print.
**No proof prior to making the locket will be sent if using already drawn silhouettes unless requested.**
-----
Would you like more copies of your drawings? You can purchase duplicate prints HERE. 
Click here to read how to submit your photos & photo taking tips. Photos are due within 72 hours of the restock.
Head to this page to find the links to the Custom Details Forms. You will fill this out after ordering.
For specific turnaround times head to this page. Visit this page for FAQ's and this page for important information on taking good care of your locket.
$ 151.00
Locket love
I'm in love with my little locket! It's simple and stunning. I love that my daughter wants to open it to see her picture. I always tell her "mama keeps you and baby brother close to my heart!"
Anna
Amazing Work!
Essie and her team have given me on of my most treasured possession. I bought my locket back in 2018 and added my older sons portrait then had the other side filled October 2021. The detail of their lips and hair is incredible. Such beautiful work. Love having their baby faces saved in such a beautiful way.
Amazing!
My every day wear - simple enough to pair with everyday but dressy enough for special occasions. My absolute favorite!!
Birthday Locket
Essie and her Team helped me pull off a birthday surprise for my sister. She had her daughter's silhouette drawn earlier in the year. I messaged Essie on IG and she assisted in finding the illustration and I was easily able to order this one of a kind gift for my sister. She was incredibly surprised on her birthday. And the gift box and bow are the perfect touches too. Thank you!
Perfect!
I just received my petite locket in the mail today and I put it on immediately! It is perfect. I chose the matte gold and am in Love! I am the type that wears the same necklace everyday and this is perfect for that.