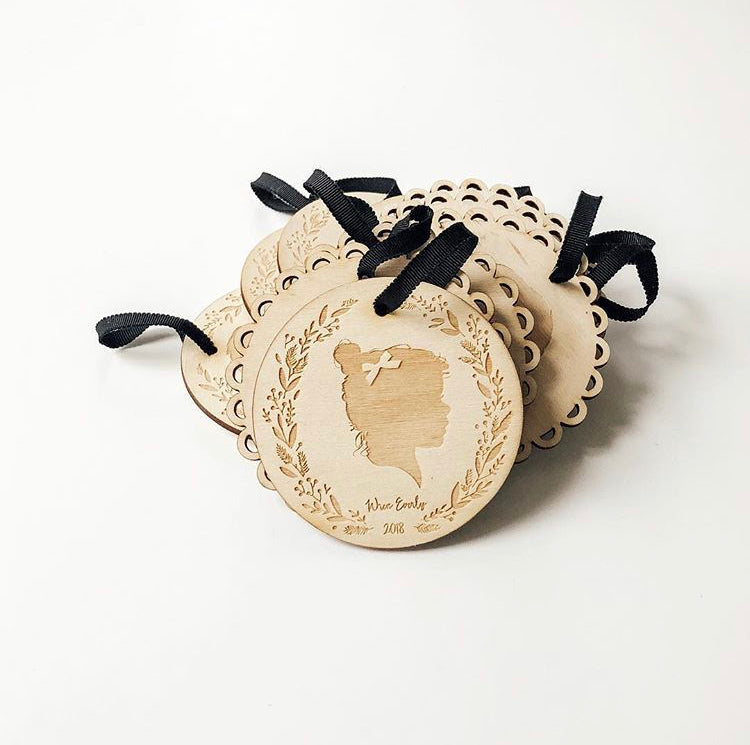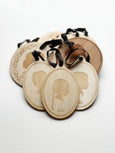 The Individual Silhouette Ornament
Your hand drawn silhouette will be carefully engraved into wood for you to display on your Christmas tree or year round!
Ornament Details
· 1/4 inch thick and approximately 3.5 inches round
· birch is left raw (so there is a contrast) and the other woods are hand polished with a natural beeswax finish
· strung with a piece of black grosgrain ribbon and tucked inside a muslin bag for safe keeping & perfect gift giving
IMPORTANT: Wreath selections, names, year, etc will be requested in the custom order details form that you will fill out AFTER ordering.  If you do not fill this out then we will use the design on our sample image.
When choosing a wood type:
Birch has the most contrast with minimal wood grain.
Cherry is rich and beautiful. Moderate wood grain and sometimes a moderate contrast, sometimes a slight contrast.
Maple is a beautiful color with lots of variation and wood grain. Sometimes a moderate contrast, sometimes a slight contrast.
Would you like more than one child on an ornament? Purchase this listing instead.
**No proof will be sent if using already drawn silhouettes unless requested.**
Due to natural variations in wood grain and color every ornament will vary from what is shown. Wood grain may end up throughout the silhouette engraving.
-----
Click here to read how to submit your photos & photo taking tips
For specific turnaround times head to this page.
Visit this page for FAQ's and this page for important information on taking good care of your locket.
$ 35.00
Timeless ornament keepsakes!
I have several items from this beautiful mama-run shop and am so happy to finally complete my collection with 5 ornaments that will be passed down for generations. Beautiful & Timeless! 🖤
Silhouette
Amazing! I'm a repeat customer and couldn't recommend them more! Everything I have ordered from this shop is a treasured keepsake.
Wooden ornaments
These Wooden ornaments Are timeless and stunning.
Beautiful ornaments
l love the ornaments! They are so beautiful and such wonderful moments in time of my children. And bonus, the wood smells so fresh and amazing:)