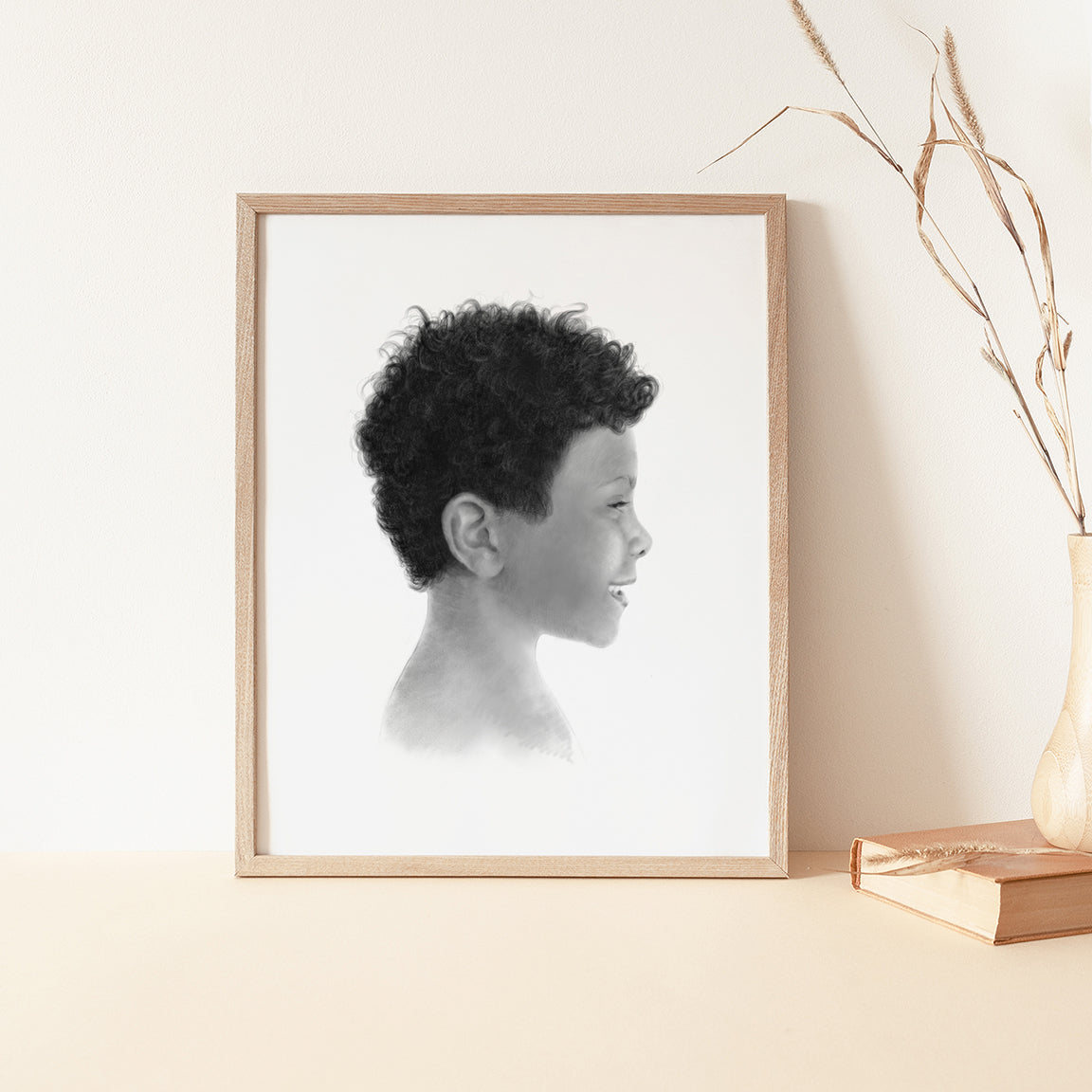 The Pastel Silhouette Portrait - Grayscale
Hand-Painted Silhouette Portraits – Timeless – An heirloom to be treasured for years to come. 
Using your photo as our guide, we create these mixed media portraits using chalk, gouache, watercolor and graphite.
These paintings are digitally created.  Made by a professional fine artist (www.laurentilden.com) you are receiving an heirloom portrait at a more affordable price due to the medium used.

All custom Silhouettes will come with one proof and round of simple revisions prior to printing. Should you request changes that go above this there may be a revision fee at the artist's discretion. Please make sure you submit a photo that you love as that will be our guide.  Please keep in mind that while we are known for drawing our portraits accurately, there does need to be room for artistic interpretation as these are hand drawn portraits.

Each silhouette will be printed individually based on the size you choose.  If you would like multiple children on the same print, still select the number of illustrations and just let us know you would like them as a "family print."
Tips for a great profile photo:
• A resting face or one that shows big expression look great in this art.
• We should ONLY see one eye/eyebrow - meaning the face needs to be fully turned sideways.  These are Silhouette Portraits.
• Is the photo showing the ENTIRE face, head/hair, neck area?
• Are you happy with how the hair looks?
• Is the photo taken during the day with good lighting? 
The Details
Your print will be carefully made using archival inks and 100% cotton rag fine art paper.  The print has a lightly textured matte surface that makes our drawings look amazing.
 Prints do not come with frames. You can add a frame to your order by adding this listing to your cart.
 -----
Would you like more copies of this drawing? You can purchase duplicate prints HERE. 
Please Note: Colors may vary slightly based on your screen and therefore colors in the final printed piece may be slightly warmer or cooler.
Click here to read how to submit your photos & photo taking tips
For specific turnaround times head to this page.
Visit this page for FAQ's.
$ 170.00